Professional retouchers use a lot of techniques to retouch skin. In this tutorial, you'll learn one of the most basic retouching techniques called frequency separation. It's used as a quick way to airbrush skin without removing too many fine details.
What is Frequency Separation?
Frequency Separation is a jargon used in the retouching world to describe a skin airbrushing technique. The technique involves splitting an image into two "frequencies":
Low Frequency Layer: smoothed layer where only the colors and tones can be seen
High Frequency Layer: sharpened layer holding the finer skin details
Once the skin is separated into these two layers, you can adjust the layers to create airbrushed skin.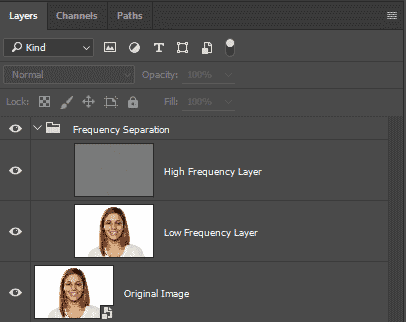 How to Airbrush Skin With Frequency Separation
Prepare Your Layers for Nondestructive Editing
Start by converting your layer into a Smart Object. This will let you change the filter settings later on without undoing a bunch of steps. Open an image then right-click on the layer and select "Convert to Smart Object".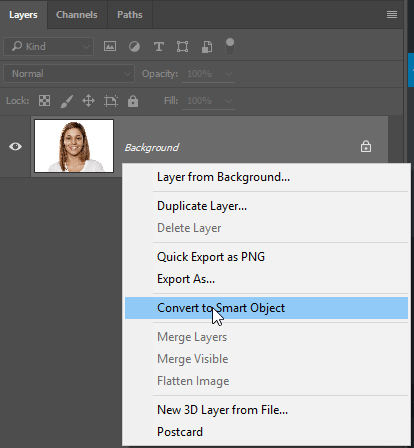 Next, duplicate the layer twice. Name the top layer "High Frequency Layer" and the second layer "Low Frequency Layer".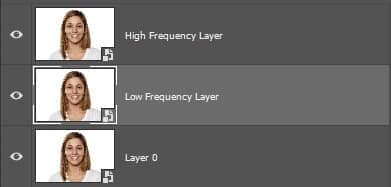 Create the High Frequency Layer
Select the High Frequency layer then go to Filter > Other > High Pass. This filter is used to create a gray layer with an embossed effect of the fine details. Set the Radius to 3 then click OK.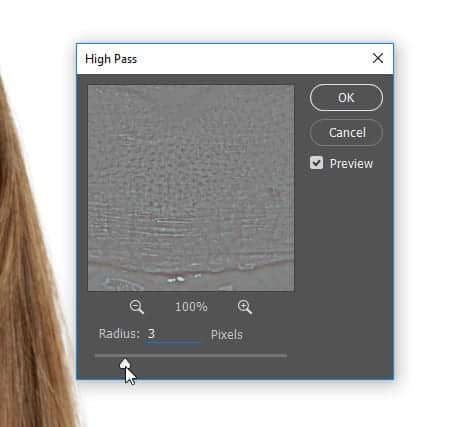 Change the blending mode to Linear Light. Once it's changed, your image will look incredibly sharp. This layer helps restore the fine/high-frequency details in your photo.
Traditional vs Modern Frequency Separation
Traditionally, the frequency separation technique applies a low-pass filter to the Low Frequency layer. In Photoshop, the low pass filter is called the Gaussian Blur filter and it is the opposite of the High Pass filter. Instead of revealing the fine details, it's used to blur the image so that only the tone and color are visible.
However, the traditional frequency separation technique doesn't produce the best results. It creates a diffused-glow effect on the skin which looks artificial. Instead, we'll be using a newer variant of the frequency separation technique which uses Photoshop's Surface Blur filter instead of the Gaussian Blur filter. This produces much better results and it helps preserve the edges in your image. Below is a comparison between the two techniques.