Before you can use the SpaceMouse Pro with Photoshop, you'll need to install its software which will install a plug-in for Photoshop. This plug-in needs to be activated every time you start Photoshop (File > Automate > 3DxPhotoshop). You can get around this by creating Photoshop action and use the Script Events Manager to play that action every time Photoshop starts. Here's how to do it:
In the Actions panel (Window > Actions), click on the "Create new set" button. Name this set "3Dconnexion". Click on the "Create new action" button and name it "Start 3Dconnexion". Photoshop will begin recording your actions.
Go to File > Automate > 3DxPhotoshop.
Click the "Stop" button in your Actions panel.
Go to File > Scripts > Script Events Manager. Select the Action radio then pick the action you just created from the dropdown menus. Click the Add button and checkmark the "Enable Events to Run Scripts/Actions" checkbox. Click Done. Now the 3Dconnexion plugin will automatically start every time Photoshop starts.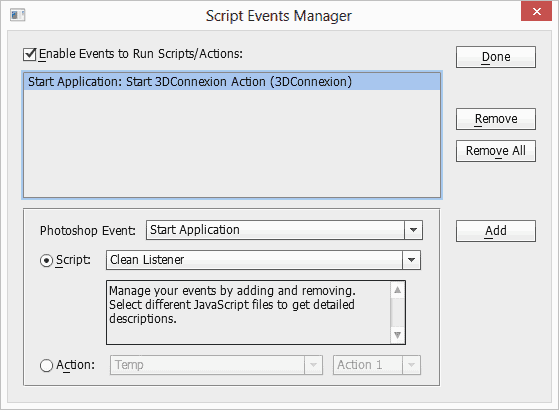 Once you have it set up in the Script Events Manager, you no longer have to start the 3DxPhotoshop plugin manually.

Using the SpaceMouse Pro on 3D objects is easy and intuitive and responsive. On a slower computer, there was some slight lag but still usable. Rotating 3D objects is a lot easier with the controller cap. With a mouse, you have to tediously switch between the six 3D move tools. With the controller cap on the 3D mouse, you can do all of this without switching between any of the 3D move modes. It's amazing how much easier and faster 3D work is with a 3D mouse. I highly recommend enabling the dominant option in the settings which limits the controller cap to rotate/move at one axis at a time. This is similar to holding the shift key in Photoshop and gives you precise movements by locking it to one-axis at a time. I really wished the QuickView keys worked with Photoshop. If they did, they would let you switch between the different views quickly (default, rotate 90 degrees, top, front, and right). Unfortunately, it's not supported in Photoshop. The 3D mouse is useful even if you're not doing any 3D work. When you're not on a 3D layer, the controller cap serves as a panning/zooming tool. Move the controller sideways to pan your document around or press/pull to zoom in/out. You can even twist the controller cap to change your brush size. Even though I'm used to the hotkeys in Photoshop, I always find myself using the controller cap to pan/zoom. It's a nice touch and I'm glad they added it.
---
Conclusion
When Photoshop Extended came out, I was excited about the new 3D features but I didn't like how difficult it was to manipulate 3D objects. Rotating 3D objects would require some sort of planning-ahead because I always had to pay attention to which 3D move tool was activated (rotate, roll, drag, slide, and scale). I also had to keep pressing Shift+V keys to switch between the 3D modes. After using a 3D mouse, it's hard to go back to a regular mouse. It's simply easier, faster, and more convenient to use the 3D mouse. You'll need to use a 3D mouse for at least a couple days before you get good at it but I found that if you enable the "Dominant" option in the settings, it would lock the cap to move one axis at a time and make it easier to use. Also, I was surprised to see that it worked on non-3D layers for panning around, zooming in/out, and even adjusting your brush size. And even though I am extremely used to Photoshop's hotkeys, I find myself using the controller cap instead of Photoshop's hotkeys to pan and zoom.