Once you've done that, dotted lines will form around the area you selected (in this case, the sorceress) and after that, we're now ready to move the lady to our canvas. To do that, simply activate the Move tool (V) and drag the selected area to our canvas.
Position it similar to the image shown below:
Next, we will have to rename this layer to avoid confusion. Rename this layer to "sorceress".
Now, we're going to erase a part of the sorceress' cloak to produce glare from the light on the background. To do that, we would need to activate our Eraser tool (E).
When it is activated, use the following settings:
Brush size: 600px
Hardness: 0%
Opacity: 25%
Flow: 100%
Use the Eraser on the region shown on the image below:
Next, we will be blurring the edges of the coat to make the depth of field look more realistic. To do that, activate the Blur tool (R).
When activated, input the following values:
Brush size: 175px
Hardness: 0%
Mode: Normal
Strength: 100%
Apply the Blur tool on the region shown on the image below: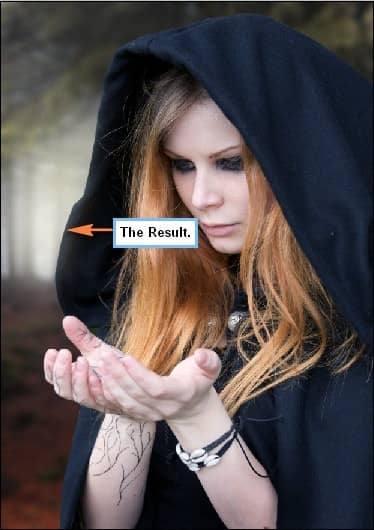 Now we will be changing the sorceress' Color Balance. Before you proceed, make sure that the "sorceress" layer is selected, and then go to Image > Adjustments > Color Balance. When the Color Balance box opens, input the following:
Color Levels: -27, -15, 0
Tone Balance: Midtones
Preserve Luminosity: Checked
The result should be similar to this:
Now we're going to add light on the background to emphasize the details of the cloak. First, let's create a new layer (Ctrl/Cmd + Shift + N) and name it "Light 4". Then, open the Color Picker through clicking the Foreground Color box. When the Color Picker opens, input the following:
Now with the brush color set, activate the Brush tool (B) and input the following values:
Brush size: 600px
Hardness: 0%
Opacity: 30%
Flow: 100%
Apply the brush on the region indicated on the image below: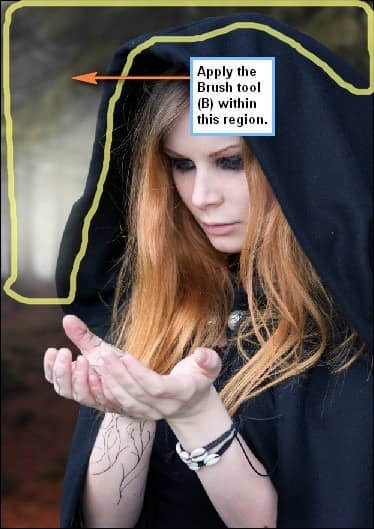 The result should be similar to this:
Now, we're going to darken the areas that won't be affected by the light that we will be putting on the sorceress' hands. Create a new layer (Ctrl/Cmd + Shift + N) and name it "Darken 1". We would need black paint so let's change the brush's color. Activate the Color Picker and input the following:
Now let's activate the Brush tool (B) and input the following: