Now that this new layer is created, let us set up the brush color that we're going to use. Activate the Color Picker by clicking on the Foreground box. When it opens, input the following: Take note that this will be the brush's color for this whole step. Activate the Brush tool (B) and use the following settings:
Brush size: 500px
Hardness: 0%
Opacity: 25%
Flow: 100%
We're first going to light up the eyes of the sorceress. Before you proceed, it is recommended that you zoom in to your image. The recommended value is 400%. You can set this up by pressing Ctrl/Cmd + (+) or by manually inputting the desired value on the Navigator window. See image below:
Now that the image is zoomed in, you can now accurately paint. For more instructions, refer to the image below:
Once you're done with that, let's now proceed to the other eye.
The result when viewed at 25%:
Create another layer; after creation name it "Glow 2". Activate the Brush tool (B) and input the following:
Brush size: 500px
Hardness: 0%
Opacity: 25%
Flow: 100%
The result of that should be similar to the image shown below:
Create a new layer and then name it "Glow 3". Activate the Brush tool (B) and use the following settings:
Brush size: 500px
Hardness: 0%
Opacity: 15%
Flow: 100%
Refer to the image below for more instructions: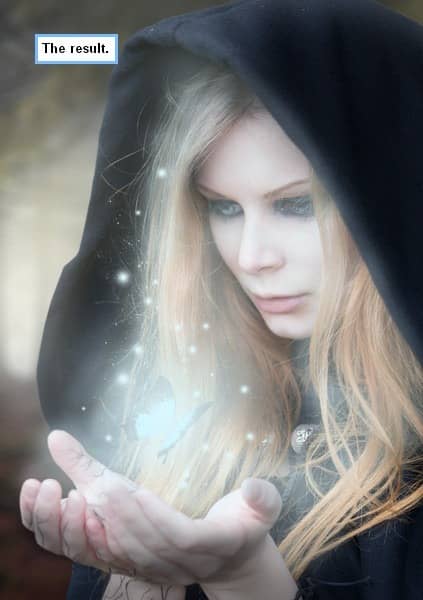 Next, create another layer and name it "Glow 4". Activate the Brush tool (B) and then input the following:
Brush size: 500px
Hardness: 0%
Opacity: 15%
Flow: 100%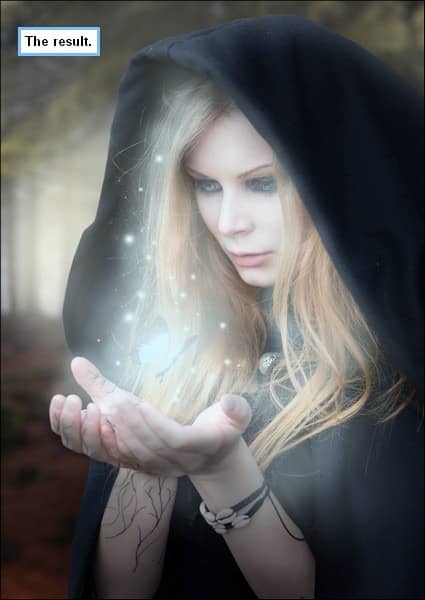 For the final layer, we will be making the pendant on her necklace glow. Name this layer: "Glow 5". Have your Brush tool (B) ready and then input the following settings:
Brush size: 10px
Hardness: 0%
Opacity: 100%
Flow: 100%
Before you proceed, it would be recommended to zoom at a level of 400% to be accurate. Use your brush on the region shown on the image below:
When you're done, right click on the "Glow 5" layer and click on Blending Options. Once that is up, click on the Outer Glow tick box and click again on the Outer Glow word to bring up its menu. When the menu is up, input the following:
Structure: USE DEFAULT VALUES
Elements
Technique: Softer
Spread: 0%
Size: 54px
Quality: USE DEFAULT VALUES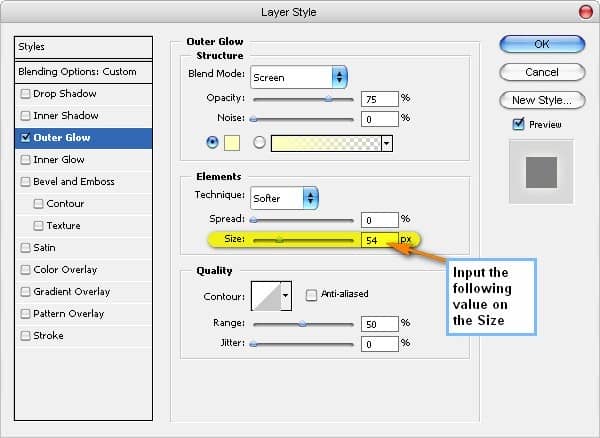 The result as seen from a zoom level of 25%:
When you're done, group these layers and name the group: "Glow on sorceress"
Step 7: Create a Vignette
In this step, we will learn how to create a vignette which will help enhance the focus on our subject. To start, go to the Menu bar and click on File > New and use the same settings we used to create our canvas. (Refer to Step 1). Take note, the background contents should be: WHITE Once it has been created, go to Filter > Distort > Lens Correction. Find the tab Vignette and use these settings:
Vignette amount: -100
Midpoint: +50
Now that that's done drag the vignette to our canvas using the Move tool (V) and put it on top of all the layers that we've created, and then set the following:
Blending mode: Multiply
Opacity to 100%
To set the blending mode, simply click on the drop-down menu beside the word "Normal" on the top part of the Layer window. The Opacity is located just beside that drop-down menu as well. See image below:
The unblended Vignette will look like this:
Once the blending mode is set to "Multiply" it would look like this:
Step 8: Retouch the image
In this step, we will be enhancing the feel and look of the image by retouching it. First, let's start off by creating a Solid Color adjustment layer. To do that, click on the "Create New Fill/Adjustment layer" button located on the Layer window. See image below: