---
Step 8
Now add a title and a tagline, the one that I've used was created using only text and the font, 'Rockwell'. I used the same blue here as the stitches and if you are familiar with swatches then a good idea would be to set a blue and grey swatch that you can use again.
---
Step 9
Now create the menu by using a sans serif font like Helvetica or Tahoma. Now just type a few words in uppercase using the same blue color. Another thing that I tend to do especially when using all uppercase is to increase the tracking (horizontal letter spacing) of the letters, to do this go Window>Character then highlight the word and change the tracking. I did each of the menu items in a different layer.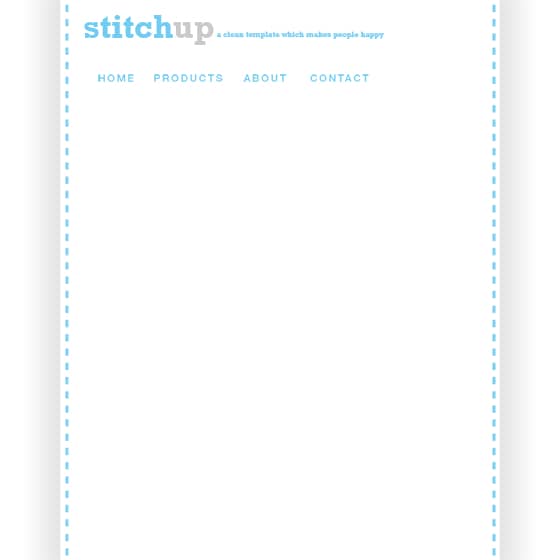 ---
Step 10
Now duplicate all these words and change the color of each of them to the grey color. So now you have a set of layers with the menu items in blue and a set of the same menu items in grey. This is just so that you can see what the words would look like if you were to hover over them in the real site. Only make one of each menu item visible at a time.
---
Step 11
Next I made a custom RSS feed icon which you only really need to add if you were planning to have RSS feeds available on the site. First I drew a rectangle using the blue color then I added the word 'RSS' using the font, 'Rockwell' in white. For the actual feed icon you can download it from here in the 'Developer Kit' and place it into your document. I then put the icon in a new layer group then duplicated the group then changed the blue rectangle to a grey rectangle, again to show what it would look like when hovered over.
---
Step 12
I thought that a kind of slideshow element would look good on the homepage so to figure out what it would look like I copied in a stock image which matched the color scheme, if you;re interested the image can be downloaded from SXC here. Paste the image into your document then scale it down and position it like so.
---
Step 13
Select the rectangular marquee tool and drag a selection box over the image (the part which you want to keep) then select the layer with your image in it then go Layer>Layer Mask>Reveal Selection and you should be left with something that resembles the image below.