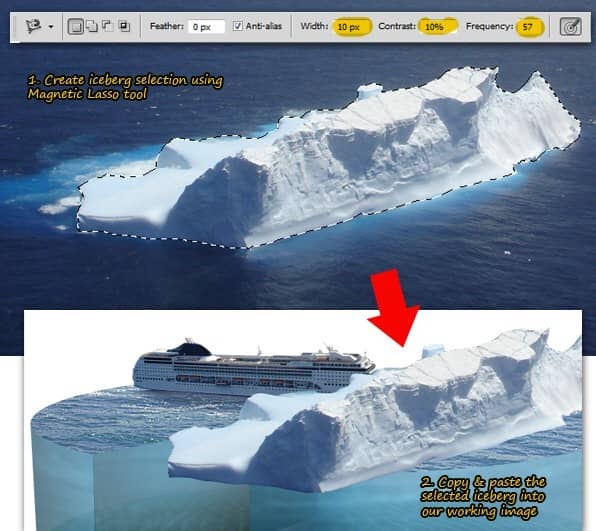 ---
Step 42
Decrease iceberg size using free transform command. Make sure you put iceberg layer on top of cruise layer group (I've been grouping those layer before doing this step), name it 'iceberg01' since we're gonna add second iceberg later.
---
Step 43
This iceberg need reflection, so first thing is to duplicate iceberg01 layer then drag down the iceberg01 copy layer below it. Then go to Edit > Transform > Flip Vertical to flip the 'iceberg01 copy' vertically. Use Move tool to drag down iceberg01 copy image, you'll see it's rather difficult to create reflection if the image has this kind of perspective.
---
Step 44
Lets begin with the left part of iceberg reflection, create a simple selection using Lasso tool. Press Ctrl+J to copy selected areas into a new layer, then use free transform command to rotate it clockwise. Try matching the upper edge part with the original iceberg above it, press Enter when done.
---
Step 45
Go back to 'iceberg01 copy' layer and rotate it counter clockwise, it will not perfect but try to align the upper edge with the original iceberg above it. And yes, you probably want to stretch it a bit like I did ( shown in the image below )
---
Step 46
Erase the excessive iceberg reflection using Eraser tool, see image below for guidance when erasing.
---
Step 47
To make the reflection color becomes darker, add Color Overlay layer style for each iceberg copy. Pick a dark blue color with low opacity.
---
Step 48
A reflection usually faded, right? so, add layer mask for each 'iceberg copy' layer and then mask it using linear Gradient tool until you get this result ( see image below ).
---
Step 49
Notice the excessive part from the 'iceberg copy' layer, we didn't want that annoying part. Click the thumbnail of layer 'iceberg copy', and then erase the annoying part using Eraser tool. See image below for guidance when erasing.
---
Step 50
Create a new layer between iceberg01 layer and its reflection layer. Then load a selection by Ctrl+Clicking the thumbnail of iceberg01 layer. Press Shift+F5 to bring the Fill dialog box, select black and reduce Opacity to40%. Click OK to fill the selection with low opacity black.