We are going to start on the edges of the face.making short quick strokes taking as a reference the direction of the fur and the color.
Try changing the to lower sizes of the brush to get more detail.Remember to have patience while doing this step.The more hair you paint,will make the blending look better.
If you are using the pen tool in this step,I suggest you stroke different parts of the hair, then duplicate the layers and change their positions slightly to create clusters of hair you can easily move around,copy and paste around the face to speed up the process.
---
---
Step 7
Once you have the edges of the tigers face filled with hair,we are going to start painting the face.First we are going to fill the face and defining it with the colors we sampled and then we are going to add details and accentuating them with another set of contrasting hues. Create a new layer,sample the bright green color and start stroking small indications of fur where the blue color is.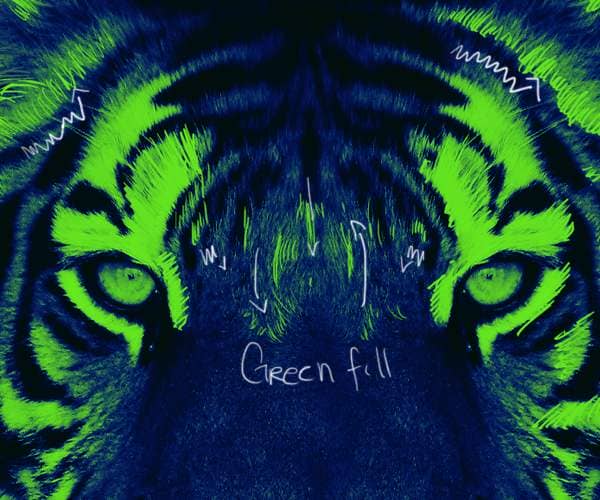 Now select the blue and paint to fill the parts that need more detailing.
You can create new layers for every color or sector of the face you paint to keep things in order.Slowly fill the face with short paint strokes but be sure not to over do it! (We are trying to give it more detail without taking away the main composition of the tigers face).
Pay attention on the direction of the fur,that will help you guide the way you should do the strokes.
---
Step 8
Now we need a selection of brighter color to paint the accents and detailing on the face.
Create a new layer.Starting with the bright green color,paint over the the darker shade of green to accentuate it.
I want the main focus of the face to be the eyes,so I will especially add more detailing here.
Keep painting more detailing on the face changing the hue of the colors: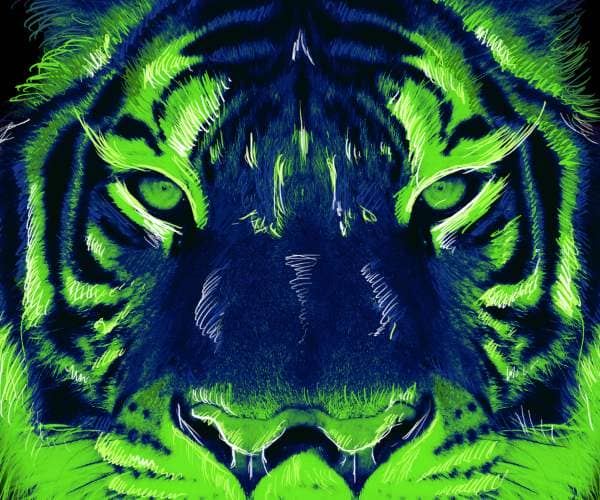 Use white to give the accents on the highlights of the image and accentuate the features of the tiger like the eyes and the nose.
Increase the size of the brush by a couple of pixels and paint the whiskers.
To give the finishing touches,I used a light blue shade and using different brush sizes, I scribbled some details along the face.