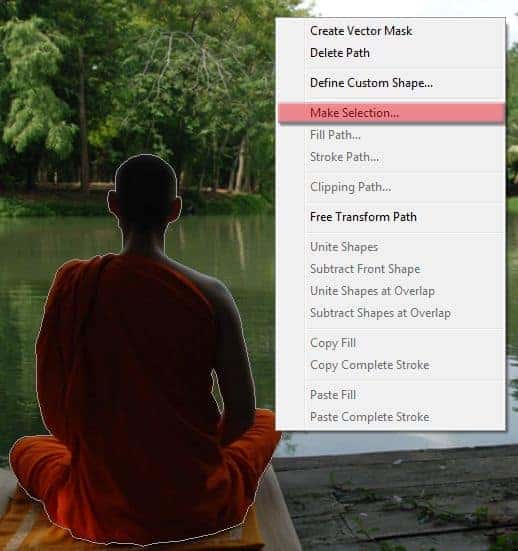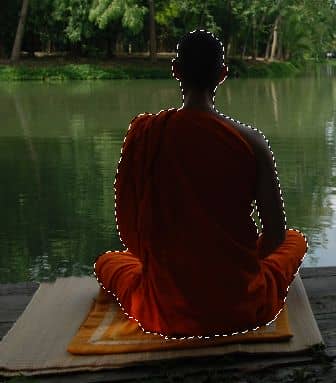 With the monk selected, create a new layer mask to its layer to make everything else disappear.
Hit Ctrl/Cmd+T (or go to Edit -> Free Transform) to resize the monk and place it on the left corner of the cave.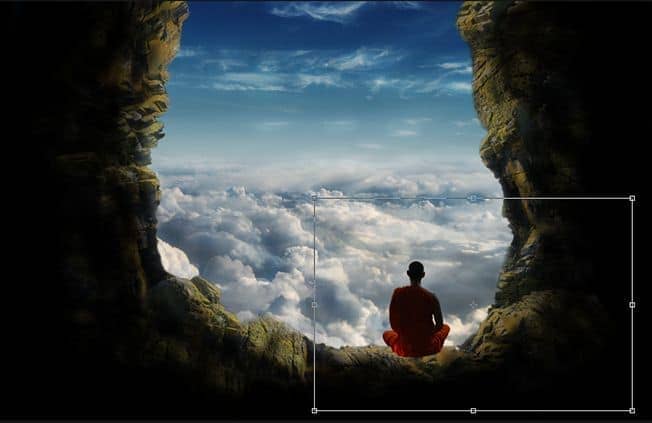 We're going to use the same technique we've been using so far to add lighting to the monk. Hit Ctrl/Cmd+Shift+N to create a new layer with these settings:
Grab the Dodge Tool (Shortcut O) and make sure the range is at Midtones and the Exposure around 25%.
Create the lighting of the monk trying to give the impression that the sun is in front of him. Here's what I did: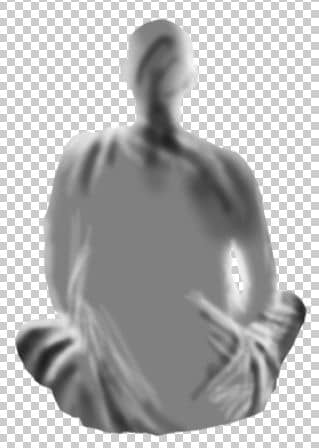 And here is the result:
Create a new layer between the monk layer and the Cave Lighting layer. Name this layer "Monk Shadow".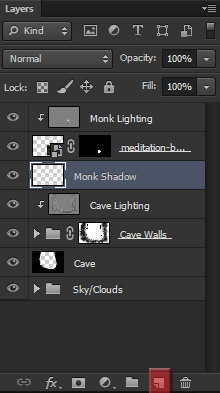 Clip this layer to the Cave Walls group by holding Alt/Opt and clicking between the Monk Shadow and the Cave Lighting layer.
Now using a soft brush (Shortcut B), paint the shadow of the monk in the cave using pure black. Don't worry about going over the sky or the monk because the shadow will only affect the cave layer. Try to do something like this:
To improve the shadow, go to Filter -> Blur -> Gaussian Blur and select a radius of 12px.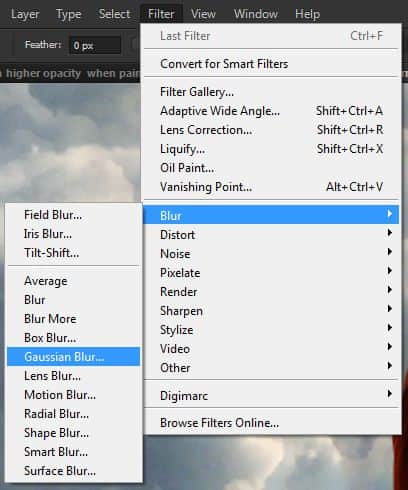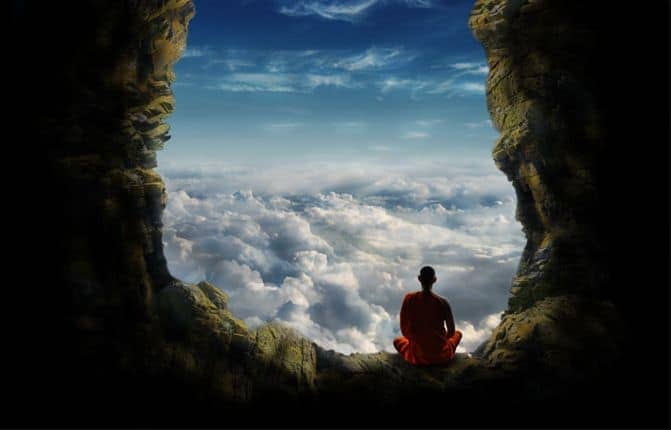 Let's add more shadow above the monk layer. Create a new layer using the same process, name it Monk Shadow again, but this time place it above all the other layers. Also, clip this layer to the Monk Lighting layer.
With the same brush we used before, paint some black in the robes of the monk. Use a soft brush with the opacity set to something around 10~25%.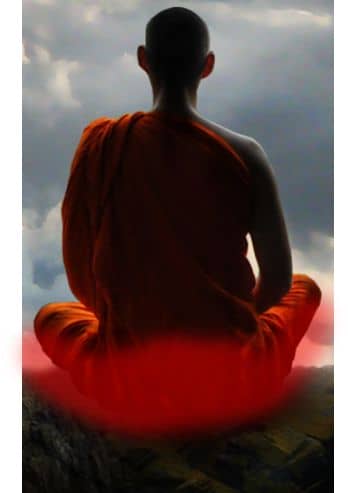 Here is the final result of this step: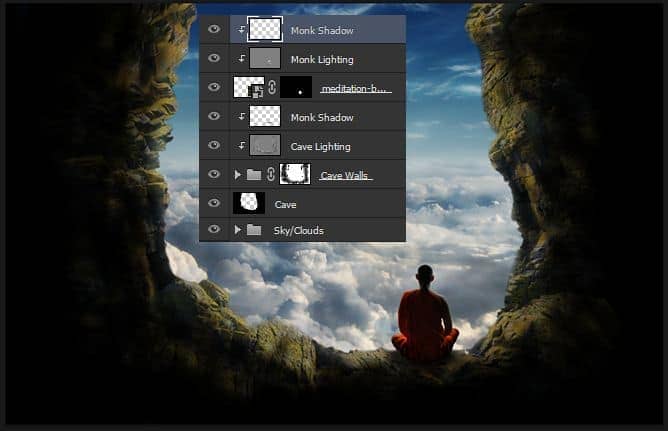 Step 6: Adding the mountains
Place the mountains in our project by going to File -> Place and selecting them.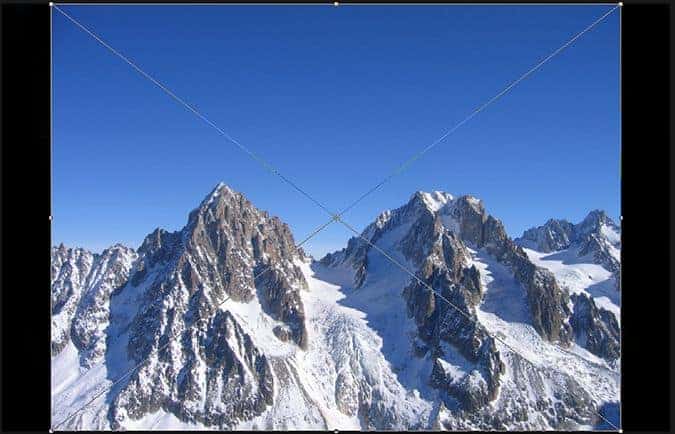 Add a layer mask to this layer and use black to hide the sky of this image (remember to use a soft brush at least around the peaks of the mountains).
Press Ctrl/Cmd+T (or Edit -> Free Transform) and resize the mountains to make them smaller.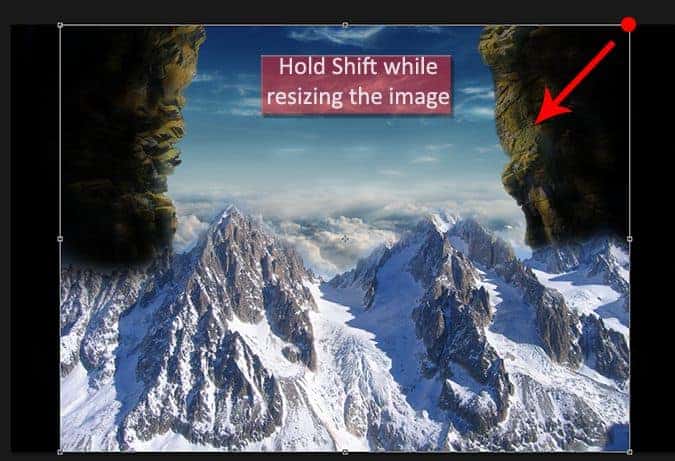 Here is what you should be aiming for: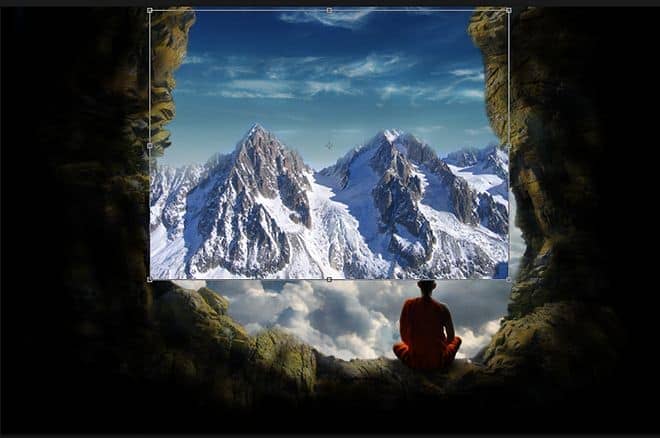 Now place the mountains between the Cave layer and the Sky/Clouds group.
Select the layer mask of the mountains layer (the one we created before) and keep painting it with black. This time we're aiming to hide the base of the mountains. Try to give the impression that the clouds are covering some parts of the mountain (set the opacity around 15% when painting these areas).