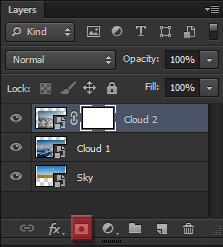 Now get the Brush Tool (Shortcut: B), right click anywhere inside the canvas and select a soft round brush (Hardness:0%). Make sure the opacity of your brush is at 100% (just below the Window menu button on the top bar).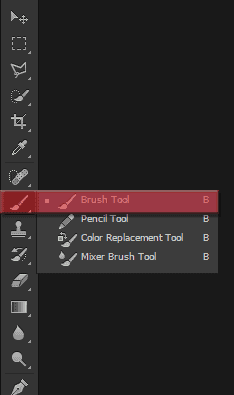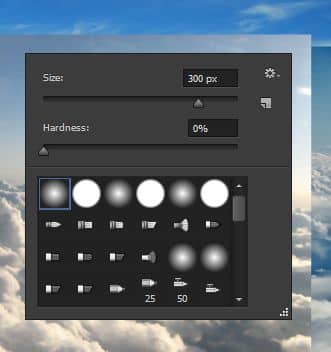 Don't worry about the size of the brush, but remember this shortcuts:
· To increase the size of a brush hit ]
· To decrease the size of a brush hit [
We're going to be painting with black (to hide unwanted parts of our image non-destructively). To quickly get black as your foreground color just hit "D" on the keyboard.
When painting a layer mask, you can hold Alt/Opt and click it to see exactly what you've painted. What you should aim for in this step is to hide the corners of the image, the sky part of the clouds, and blend the clouds of this layer with the clouds of the layer below. To do this last step (the blending of clouds), you can lower the opacity of your brush to something around 10~25%. Here is what my layer mask looks like if I click it while holding Alt/Opt.