Learn how to create a surreal scene of waterfall mountains in Photoshop. In this tutorial, I'll show how you can merge different stock images to accomplish a surreal and fantastic scene of waterfall mountains. You'll learn how you can create amazing lights effects, blending mountains stocks into a cohesive scene, enhancing light effects, and creating a magnificent natural environment of waterfalls. I'll also give you some quick tips for blending mountains stocks, so what are you waiting for? Just click on read more button and then captive yourself into the beauty of waterfall mountains.
What you'll be creating
We'll begin with setting up our basic ambient that includes mountains, waterfalls, and sky. Then we'll select each image to adjust them using adjustment layers. We'll also add some more stocks such as waterfalls, eagle to the scene using blending techniques. After that, we'll blend model to the scene by creating shadows and using adjustment layers. In the end we'll create light effects and then finally we'll finish it up using Final Adjustments layers. Note : that I am using Adobe Photoshop CC 2014 for this tutorial but you can follow it using Photoshop CS3 or newer.
Tutorial Resources
Step 1
Start by creating a new document by selecting File > New and then set the setting as shown in the image below or feel free to choose your own setting.
Step 2
Place the cliff image to the main document by selecting File > Place Embedded or Place. Then place it to the right side of document.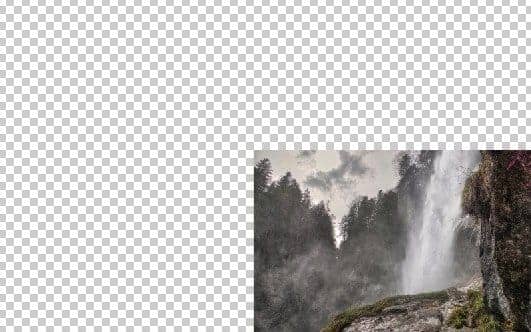 Step 3
Now place the mountain 1 image under the cliff layer.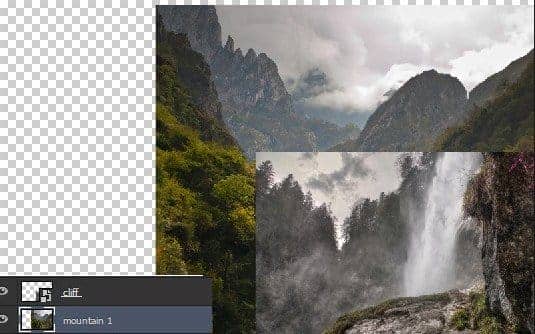 Step 4
Add a layer mask to cliff layer ( to add layer mask, select Layer > Layer Mask > Reveall All). Activate the Brush tool (B) and set it's opacity about 30%. Then using a soft round black brush hide the highlighted red parts of cliff image to blend it with mountain 1 layer.
Here are the results.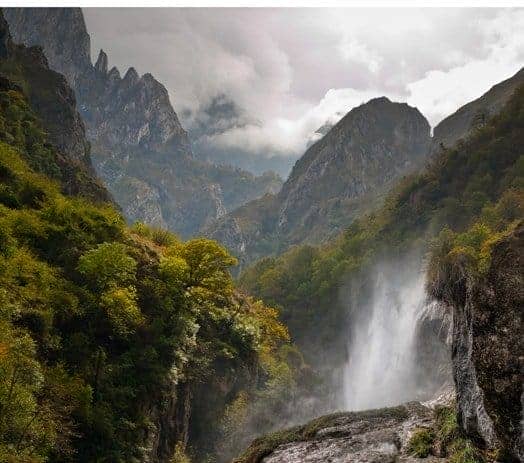 Step 5
You may notice that the platform for a waterfall in the cliff layer is also hidden while masking. So we need a new platform for a waterfall so it looks like it is falling from the cliff. To achieve this, place the waterfall 1 image under the cliff layer as shown in the image below. The best part of this image is that it has the same falling waterfall as we've had in cliff image and you can also use it to blend it with cliff waterfall.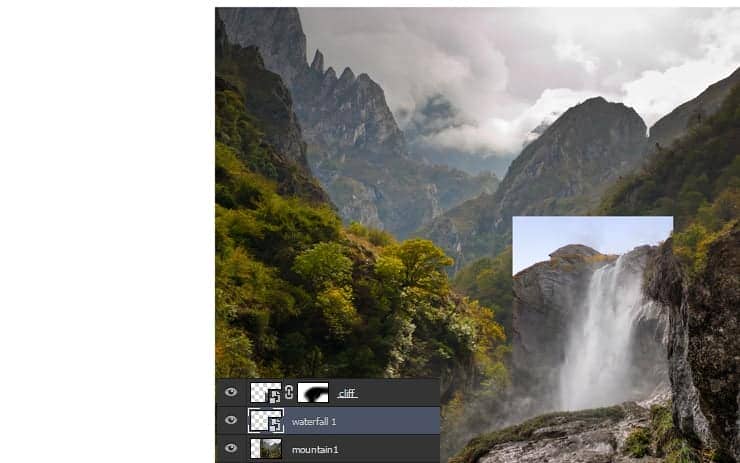 Add a layer mask to it and then hide all the parts of the waterfall 1 layer except its top part (peak) using the same brush settings in the previous step. Here are the results with the added part of the waterfall 1 image.
Step 6
You may also notice that the left part of the document is still empty. So let's add some more stock to the document. Add the mountain 2 image below the mountain 1 layer. I am hiding the visibility for the rest of the layers so you can clearly see how I placed the mountain 2 images.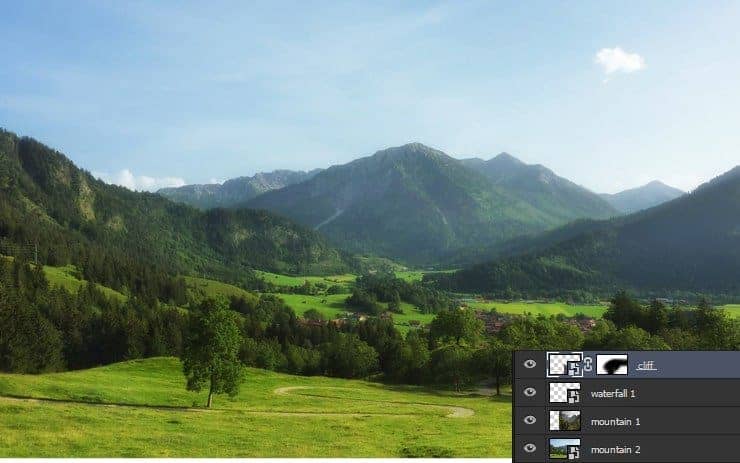 Here are results with all layers.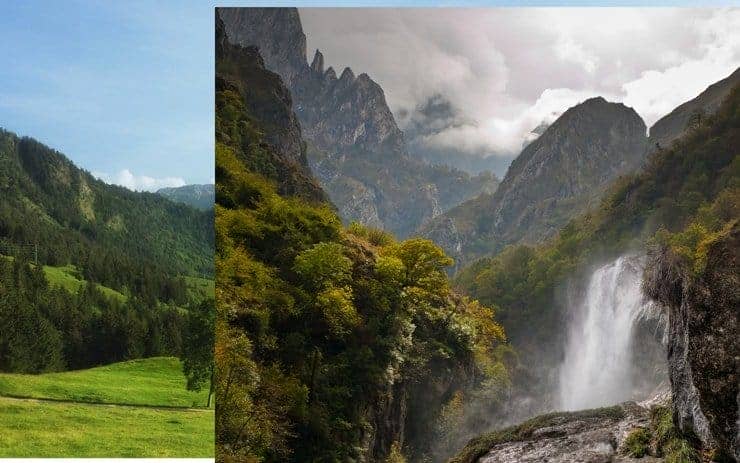 Step 7
Add a layer mask to mountain 1 layer and using a soft round black brush hide the highlighted red parts of mountain 1.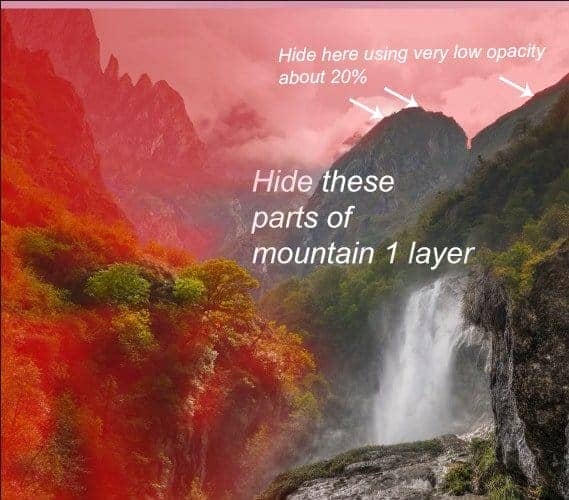 Here are the results. Don't worry about the rough masking, we'll blend them in the next couple of steps. I am leaving some parts because we'll fill up all the parts using waterfall stocks. If you don't want to leave them then mask it as well and further you can use the mountain 1 layer below parts when you feel that I need some more parts of the mountain 1 layer.