Grab the Brush Tool (B), select some soft round brush, set Master Diameter on about 20 pixels and Opacity on 30%. pick some color similar to colors of the sky and gently paint over the parts of mountain which stay too blue. Once you´re finished your image should look like the one bellow.
---
Step 4 - Reflection of Sun
If you look at some sunset photos you may notice that the sun creates "aura" on the objects behind which it shines. You will create the aura in this step.
TIP: You can take a look at two examples of this aura - photography "Sunset" by satomy79 on deviantart and painting "Cretaceous Sunset" by kerembeyit.
Make GROUND invisible for a while (click on the small eye icon).
Grab the Marquee Tool (M) and select the bottom part of the sun with the aura.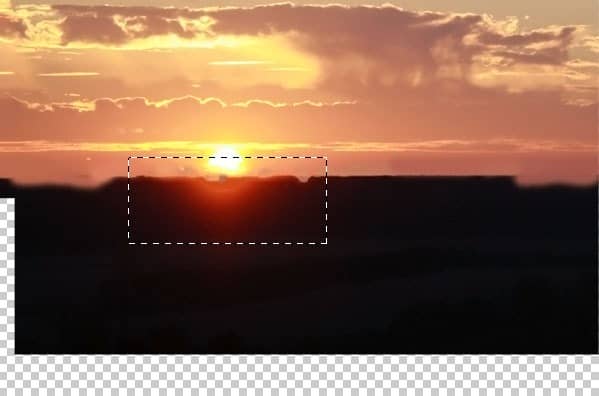 Copy the selection (Ctrl + C) and paste it on the top of the layers (Ctrl + V). Name the layer SUN AURA and change the Blending Mode on Color Dodge. Lower the Opacity on 80%. Make the GROUND visible again. Add vector mask to the layer SUN AURA. You can find the button Add vector mask on the bottom part of the palette Layers.
Grab the Brush Tool (B), select some soft round brush, lower the opacity on about 50% and pick black color. Paint around the edges of the aura to blend it properly. On the following picture you can see how your image should look like.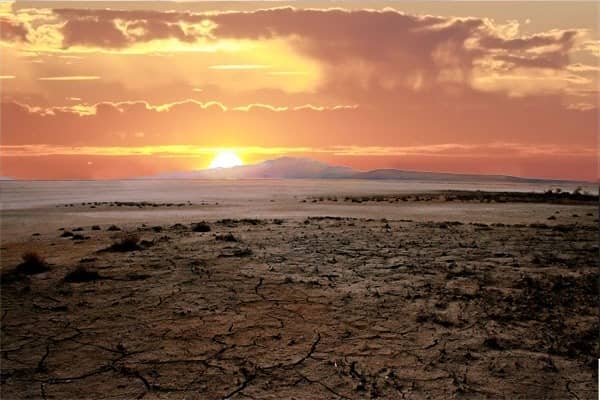 ---
Step 5 - Adding the Light Bulb
It's time to add the light bulb.
Download the picture of light bulb from the link I've provided on the beginning of the tutorial and drag it into the manipulation. Place the layer on the top of all layers and name it LIGHT BULB. Press Ctrl + T and resize it on proper size.
Tip: There is plenty of ways how to blend glass. You can blend it with the help of Channels (it's quite similar as what you did in the step 2) or with different blending modes - e.g. if you have photo of the glass on the black background the easiest way how to blend it is to change the Blending Mode on Screen. It makes the black background invisible but the glass stays visible. You should try it!
But I´d like to show you another way to learn you as much as possible in this tutorial.