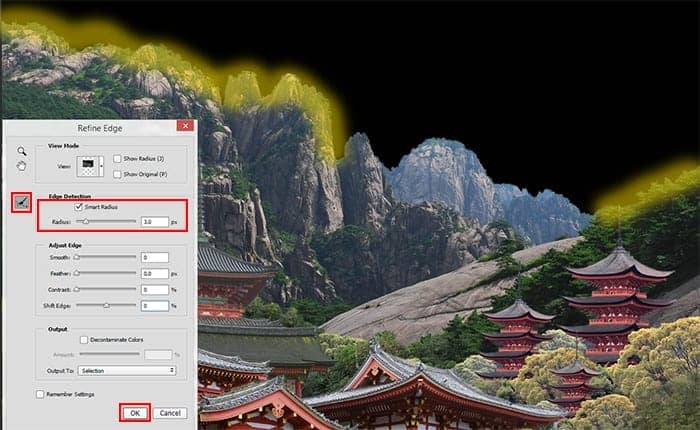 Step 24
As you can see in this image (I mean the mountain) is dominated by blue tint, and distant mountains in general as much shine, so I corrected it with adjustment layer "Curves" (Layer > New Adjustment layer > Curves...). As blue on a mountains a lot, so we need blue channel; on it make one point with Input: 163 and Output: 135. In the process I turn down the brightness a bit. On RGB channel make one point with: Input: 145 and Output: 106. Don't forget clip this adjustment layer.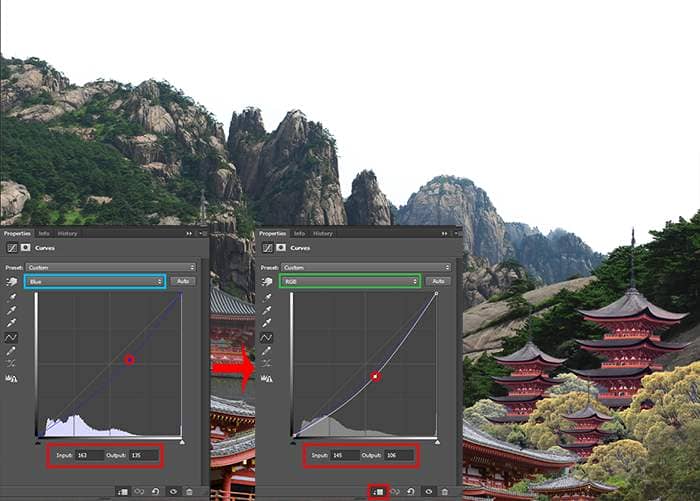 Next, take a Brush Tool (B) (Size: 250px, Hardness: 0, Opacity: 50%,) set foreground color #111315, create a new layer (Cmd/Ctrl + Shift + N or use icon on Layer panel) and paint over too light mountains (they only). Make this layer as Clipping Mask (Cmd/Ctrl + Opt/Alt + G) and set Opacity: 25%. So much better. In this way we compensate a little bit of flare mountains and returned to their texture.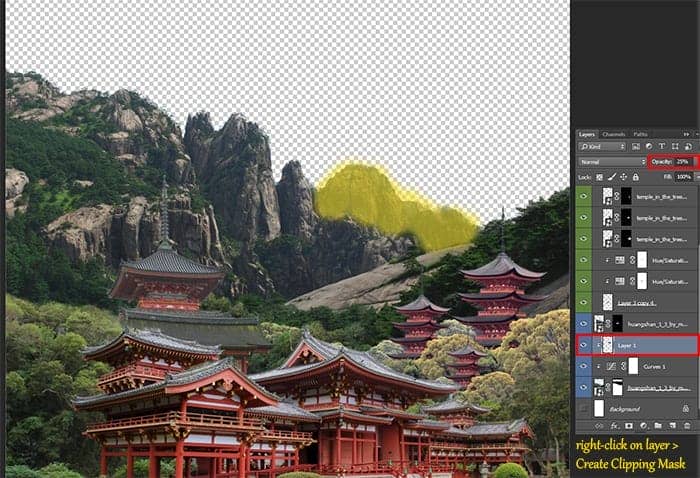 Now even small but important task. Hide all layers except duplicated mountain layer (eye icon next to the layer) and on layer mask, remove all except a small portion of the forest as in the image below. In Refine Edge set Radius: 1.7px (checkbox on Smart Radius), draw on the edges of forests. Place this layer above the layers with the mountain.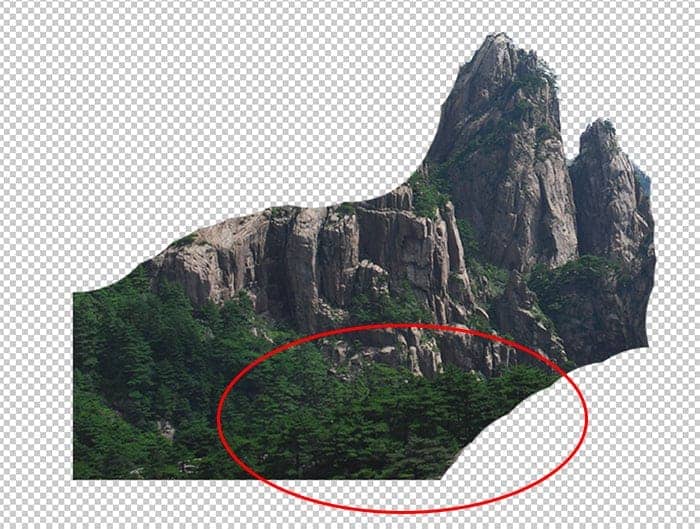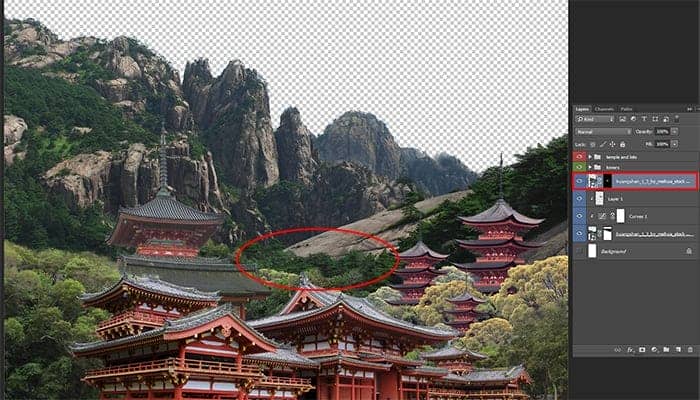 Step 25
It is time to add the last mountain in our work. Repeat Step 23 for image "patagonian_landscape_07_by_fuguestock-d76299x" the only difference that you need Flip Horizontal (Edit > Transform > Flip Horizontal) this image and place it so that only hide valley of the previous mountains (this layer below them) and leave most of the mountains visible.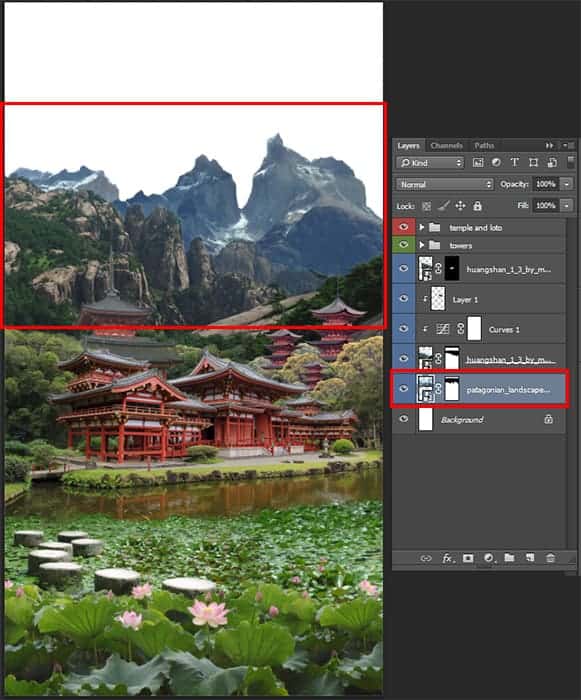 Again the same problem with the blue, but this time we will reduce the color quite a bit. Add adjustment layer "Curves" (Layer > New Adjustment layer > Curves...) wit there settings: Red - Input: 121, Output: 129; Green - Input: 158, Output: 154; Blue - Input: 114, Output: 102.
Step 26
Add the sky in working document "Sky_17_by_sacral_stock" and position it so that the bottom edge completely disappeared behind the mountains. Make a copy of this layer (Duplicate layer Cmd/Ctrl + J) and place it before mountains layer and move it a little higher ( to approximately half the height of mountains and taking into account the color of the sky to make the transition of colors). Add a layer mask to duplicated layer and remove some sky to make visibility foggy mountains. Use Brush tool (B) (Size: 60-150px, Hardness: 0%, Opacity: 20-65%) to create a soft overlay of clouds (it strongly affects to realism).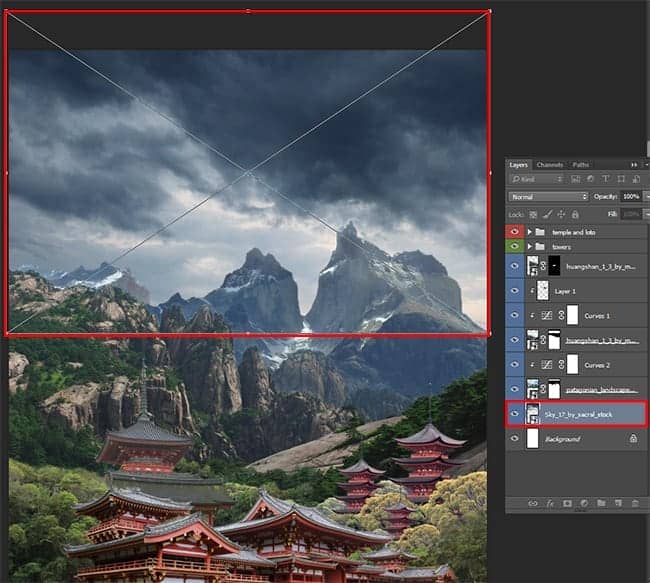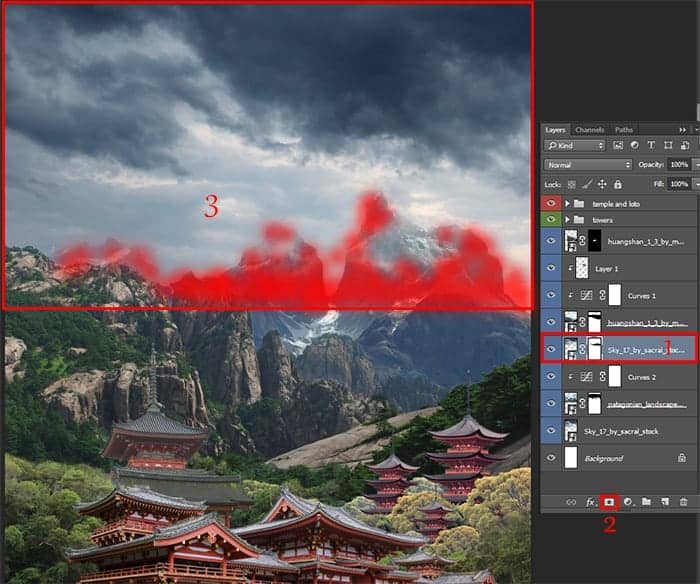 Step 27
When you align the sky, you can add a little fog in the bottom of the mountain to separate plans, create depth and perspective. Load Brushes "effects_brushes_by_vincdesign-d4mwjs4" in Photoshop create a new layer (Cmd/Ctrl + Shift + N) above the layer with the highest mountain and make it as Clipping Mask. Use brush "CLOD #2" (Size: 300px, Opacity: 60%) from this pack and set foreground color # 000000 Black (press D on keyboard) and draw on left side of the mountains to make shadow from clouds. Set Opacity: 22% for this layer.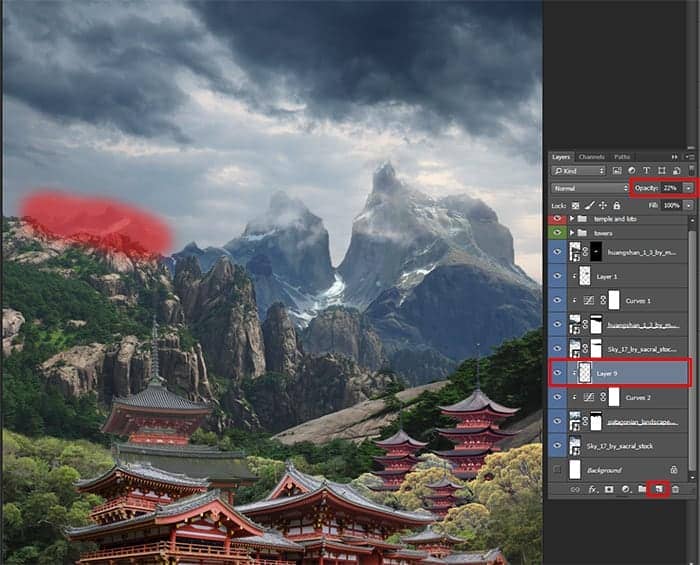 Step 28
Create a new layer (Cmd/Ctrl + Shift + N) make it as Clipping Mask in this time use foreground color: White (press D, then X on keyboard) and draw between the two main mountains to create depth. Set Opacity: 29% for this layer.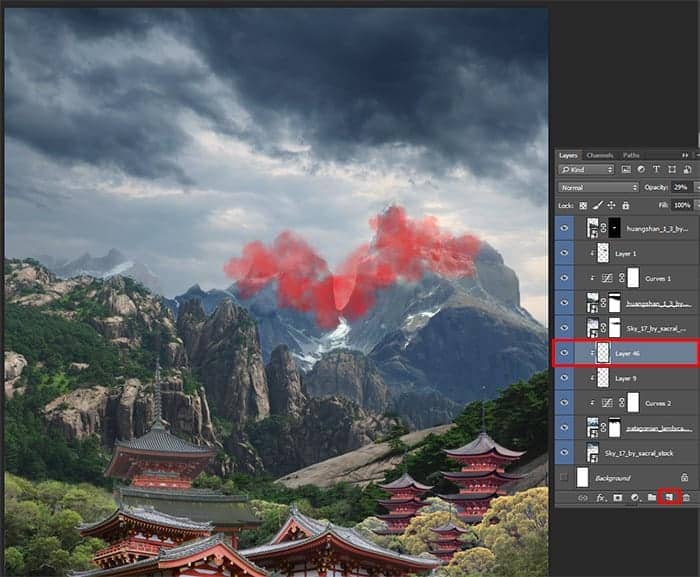 Now add two new layers beneath Huangshan Mount. On the first layer draw fog with the bottom of the mountains and a little higher (Brush Tool (B), Size: 200px, Opacity: 100%; brush does not change - "CLOD #2", color - White). Set Opacity: 25% for this layer. For the second layer, repeat the same, but use layer Opacity: 33% and paint fog slightly lower.